Regulatory Compliance jobs in Crypto
Find the latest high-paying regulatory compliance jobs with specialization in AML and KYC for cryptocurrency companies on Crypto Jobs List. If you're a Hiring Managers or HR leads who's looking for quality professionals, you can post your roles and jobs here!
Take your legal career to the next level and find exciting blockchain regulatory compliance jobs. The world is entering a new phase in wealth, asset management, and the transfer of digital assets. With newfound technologies at hand, the need to regulate diverse communities in different legal environments will stretch your capabilities to the fullest. It all began when a decentralized and peer-to-peer cryptocurrency crossed borders beyond the control of any central government or bank. Challenge yourself with the intrinsically international nature of transborder regulations and crime.
Regulatory compliance jobs will sharpen your legal edge
Since the invention of various cryptocurrencies such as Bitcoin, and coupled with the increased use of blockchain technology, the idea of currencies, financial products, and services that are independent of any centralized government authority has captured the imagination of many. Unfortunately, this included bad actors who want to take advantage of the features of these currencies. This included the pseudonymous nature and speed of transactions. Similar to all real-world physical currencies, cryptocurrencies have evolved money laundering, blackmail, terrorist financing, Ponzi schemes, bribery, fraud, abetted the evasion of sanctions, and have aided tax evasion.
In the past, cryptocurrencies have been stolen and increasingly made the subject of confiscation, production, seizure, and government recovery orders. These are exciting times, and regulatory compliance jobs in the space had to grapple with dealing with a range of different regulators. Each jurisdiction has different levels of maturity. This was made more complex by the different country or international state-specific legislation. This has made the need for well-informed compliance professionals with backgrounds in AML, fraud, contract, sanctions, terrorism, risks and controls.
Financial Crime Jobs Both Got Easier and Harder
Financial crime jobs that focused on the regulatory and operational compliance aspects of cryptocurrency were made more difficult by the rise of dedicated cybercriminals. These criminals used a variety of methods to layer, place, or remove illicit funds, buy/sell drugs, evade sanctions controls, or use various techniques that hide their true real world identities to escape detection and frustrate prosecution.
However, law enforcement and regulators discovered that aspects of blockchain technology can also aid law enforcement, compliance, and prosecution. For example, the immutability, openness and publicly available nature of blockchain transactions allowed for advanced methods in keeping an eye on spurious transactions. This includes who owns, spends, or sends funds to or from digital wallets. Two upcoming fields in this sector are blockchain forensics and network analysis.
Over the past few years, the rise in geopolitical-based regulations has driven US-designated rogue states such as North Korea and Iran to use cryptocurrencies for laundering money. Additionally, export controls on technology-based goods and services pushed several of these bad actors to maximize their use of cryptocurrencies to avoid detection. Trade embargo avoidance and political sanctions, pushed regulatory oversight on an increasing range of digitalized products, services, currencies. This oversight has unfortunately extended to innocent and politically apathetic individuals or organizations using these technologies. These events have created a new demand for Financial Crime jobs with specialization in anti-money laundering, sanctions, TBML (Trade-based money laundering), payments, and transaction monitoring.
"Good" Blockchain Companies Need Good Lawyers
Virtual asset regulations for blockchain startups are becoming a must. The proper management of companies seeking to leverage the opportunities from blockchain and innovative technologies requires professionals with a full-spectrum knowledge of financial crime and traditional disciplines. Knowledge of anti-money laundering plus current and upcoming blockchain regulations, local and international payments, on-line commerce and market requirements are vital. Compliance professionals with a strong background in the international stance on cryptocurrencies and digital assets will be in high demand by both government regulators and private organizations.
These professionals should be knowledgeable in US SEC issuances, OCC memos, FINRA alerts, OFAC, CFTC, FATF guideline papers, ASEAN and European regulations. More importantly, this should be complemented with a basic understanding of DeFi and blockchain protocols. Although some in the space would argue that cryptocurrencies cannot be inherently regulated due to their censorship-resistant, decentralized and peer-to-peer nature, there are many companies in the space that seek to tap into formal markets.
Financial crime and regulatory compliance jobs are in demand in jurisdictions with a high level of illicit activity. Therefore, legitimate blockchain startups wishing to promote themselves as highly compliant should use long-term strategic objectives in handling regulatory compliance. Allied fields that make for a stronger portfolio include innovative technologies for wealth management, gambling, remittance, investment, insurance, yield farming, and decentralized finance.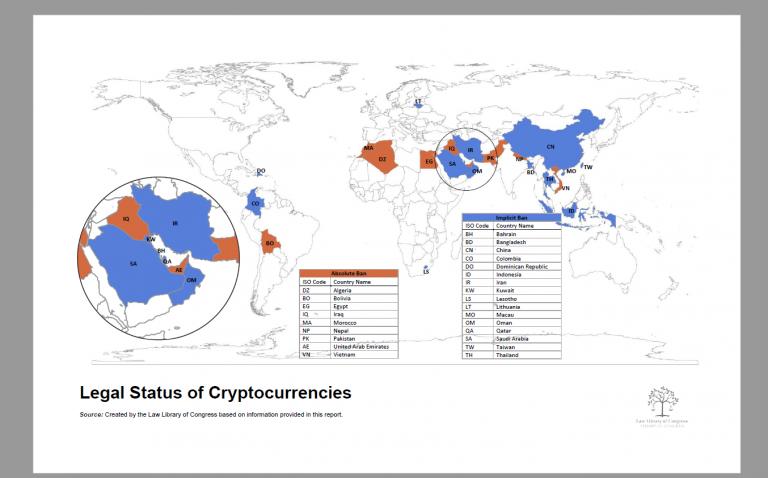 Legal Status of Cryptocurrencies Around the World
Source: Library of Congress 2018
Regulatory Compliance Jobs Require Ingenuity and Resourcefulness
There's a fervent need to keep abreast of both history and current updates when you search for regulatory compliance jobs. Blockchain companies have found themselves creating totally new legal jobs in order to meet government regulations. The earliest time when this was seen was in the case of companies like BitStamp, Coinbase, Crypto.com and Diginex. For example, BitStamp's earliest days saw huge hurdles in registering their business despite their willingness to comply and their attempts to partner with established market participants.
Ethereum and Ripple's foray into the incorporation of virtual and real assets into its blockchain via non-fungible tokens, also creates a lot of legal questions about their asset type classification that many jurisdictions and their various regulators may want to take a closer look at.
Furthermore, blockchain forensic services (Chainalysis, Ciphertrace, Elliptic) that help individuals recover assets are seeking to expand their roster of financial crime jobs and data analysis roles. The academic ramifications of the twists and turns of cryptocurrencies' relationship with different governments is a very interesting - and highly lucrative pursuit. However, caution is also warranted as many firms and trade-bodies have become overnight outfits providing qualifications and certificates, taught by people with limited or negligible actual real-world experience, beyond a change in their LinkedIn job title!
Whichever side you're on in regulatory compliance, the field is strikingly interesting for the implications that new paradigms can have on individuals, sectors, companies, and even states. If you're up for the next gold mine in the legal or law enforcement professions, this field promises high yields due to the inherent challenges that regulatory compliance jobs offer.
Also interested professionals can sign up to the regulatory compliance hub.