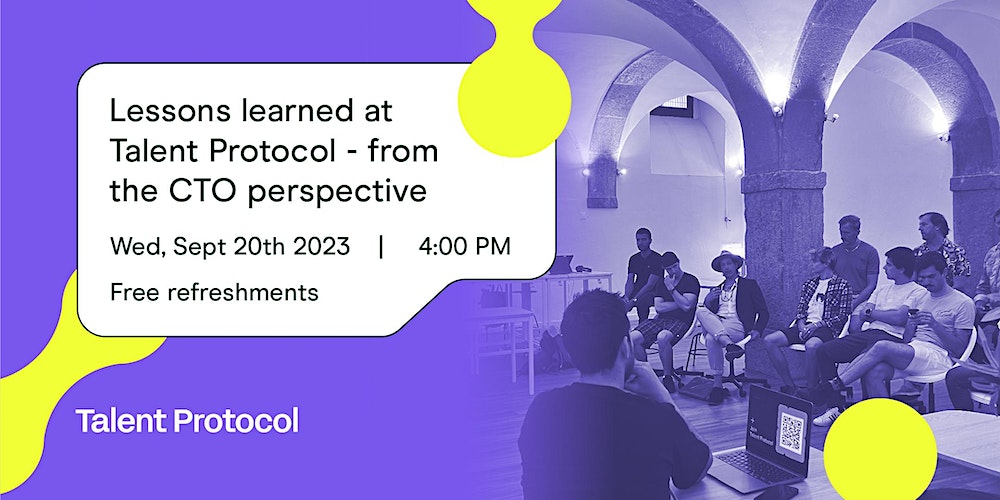 AFI+ Network Talks: Portugal's Scene Of Innovation
16:15 - 19:00
September 20, 2023 - September 20, 2023
R. da Madalena 111
AFI+ Network Talks: Portugal's Scene Of Innovation 🌐🚀
Event Overview 🎙
Join us as we delve into Portugal's innovative scene, aiming to provide insights to the community of innovators, entrepreneurs, and those from the web 3 community. Discover the cutting-edge technologies now available at your fingertips 🧠✨.
This event is hosted in collaboration with Francisco Ribeiro from Based In Lisbon
Perks of the Event:
Witness live-streamed presentations and have access to recorded sessions 🎥💡
An opportunity to get to know the AFI+ community and team 🤝
Post-presentation: Dive into "DegensHangout", hosted by Francisco Ribeiro from Baced In Lisbon 🌃🎉
Special! Attain collectable NFTs redeemable for free day-passes and discounts at our co-working space: AFI+ Hub 🎫🎨
Event Schedule Brief 📅
🗓 6th Sep:
journee.live | 16:00-19:00 🌐
DegensHangout | 19:00-24:00🍻 🎶
🗓 20th Sep:
Talentprotocol | 16:00-19:00 💼
DegensHangout | 19:00-24:00 🍻🎶
🗓 27th Sep:
Bison bank |16:00-19:00 💰
DegensHangout |19:00-24:00 🍻 🎶
Event Schedule Details📘
🗓 6th Sep:
Journee.live - How brands like BMW, Cartier, H&M, and Clinique are on a "Journee" from the Metaverse to the Immersive Web
Presented by: Jordan Robinson
"The Metaverse hype in web3 may have died down, but the appetite for innovation from leading brands has not.
Join Jordan Robinson, Global Partnerships Director at immersive web leader www.journee.live as we discuss the value for brands who continue to be digital pioneers. In this session, we learn how brands like BMW, Cartier, H&M and Clinique managed to turn Metaverse hype into business value, whilst having fun along the way!"
🗓 20th Sep:
Talentprotocol - Lessons Learned at Talent Protocol; from the CTO perspective 👩‍💻📊
Presented by: Francisco Leal, co-founder
"Delve into the highs and lows of public-building across varying market phases. Let's unpack the strategies at Talent Protocol, gearing up for future market cycles. Learn more about: www.talentprotocol.com"
🗓 27th Sep:
Bison Bank - Perfect Bridge 🌉💼
Presented by: Ricardo Martins
"Bison Digital Assets aims to be the Perfect Bridge between cash equivalents and digital assets, making it easier for customers to navigate the world of digital assets and to take advantage of the inherent benefits of blockchain. Providing reliable means for crypto exposure and operation in a seamless and controlled way to any Institutions or high net worth individuals with open accounts at the Bank, it operates under strong banking standards, inherited from its sole shareholder, namely in governance, AML, risk assessment practices, also in custody where Bison Bank has a proven track record that dates back more than 20 years. Learn more about: BisonBank"
September's AFI+ Events 🍁🎉
🗓 15th Sep:
Networking and Drinks at the AFI+ Hub | 18:00-22:00 🍷🤝 press here to sign up
🗓 21st Sep:
Women's Empowerment Evening at the AFI+ Hub | 18:00-24:00 👩‍💼🥂
🗓 29th Sep:
Networking and Drinks at the AFI+ Hub | 18:00-22:00 🍷🤝 press here to sign up
Come, be a part of this innovation-driven September. Looking forward to seeing you there! 🌟🍂