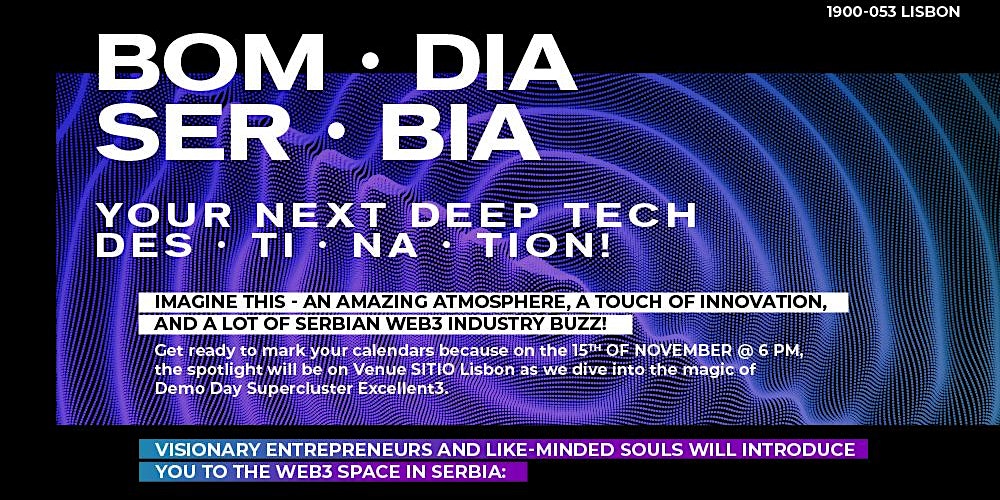 Discover Serbia: Your Next Deep Tech Destination!
18:00 - 22:30
November 15, 2023 - November 15, 2023
Parada Alto de São João 17A porta e
Are you interested in meeting like-minded people from Serbia and the region?
Join us at Venue SITIO Lisbon on November 15th, 6 PM, at the Demo Day Supercluster Excellent3.
This event highlights the advancements and innovations in Serbia's web3 sector. You'll gain direct insights from leaders in the field, including:
👉Nemanja Petrović (Supercluster Excellent3),
👉Aleksandra Popović (Serbia Innovates Project),
👉Jovan Tišma (All Art) and
👉Miloš Grozdanović (Science and Technology Park Niš).
The program is designed to provide a comprehensive overview of the latest research and development projects shaping the web3 landscape. It's an ideal platform for networking with professionals and entrepreneurs at the forefront of digital innovation and engaging with the pioneers of Serbia's web3 community.
It's more than just a showcase! It's a gateway to the future of web3.🔥
Your presence is all that's missing, we've got the snacks and drinks covered for the party 🪩😜