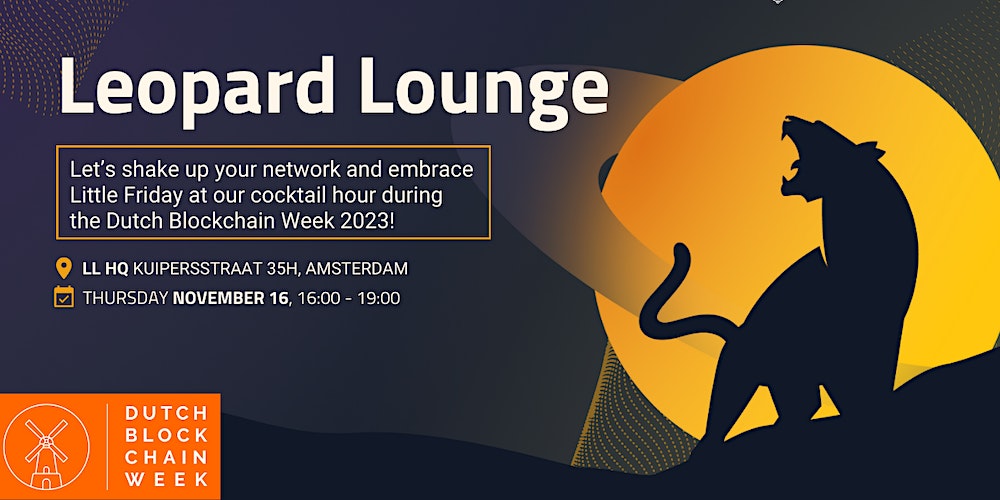 Network Happy Hour @ Leopard Lounge
15:00 - 18:00
November 16, 2023 - November 16, 2023
Kuipersstraat 35
Get ready to shake up your network and embrace Little Friday at our Web3 Cocktail Soiree during Dutch Blockchain Week 2023! It's the one week of the year where we decentralize fun and innovation as much as possible. Join us at our office in de Pijp, Amsterdam, on Thursday, November 16th, from 4:00 PM to 7:00 PM, for an evening of relaxation, connection, and a dash of blockchain magic.
What to Expect:
🍸 Delicious Cocktails: Sip on expertly crafted cocktails that represent the Web3 spirit.
🤝 Networking: Connect with fellow blockchain enthusiasts, industry experts, and the Ledger Leopard team.
🎉 Surprises Await: Get ready for exciting surprises and announcements that will keep you at the edge of your seat.
🍻 Pre-Final Day Celebration: Let's close off the pre-final day of Dutch Blockchain Week 2023 in style and prepare for the grand finale.
🌐 Blockchain Insights: Engage in meaningful discussions and gain insights into the future of Web3.
This is your opportunity to relax, connect, and celebrate the accomplishments of the week in a vibrant and memorable setting.
RSVP: Secure your spot by [RSVP Deadline] and get ready to celebrate with us!