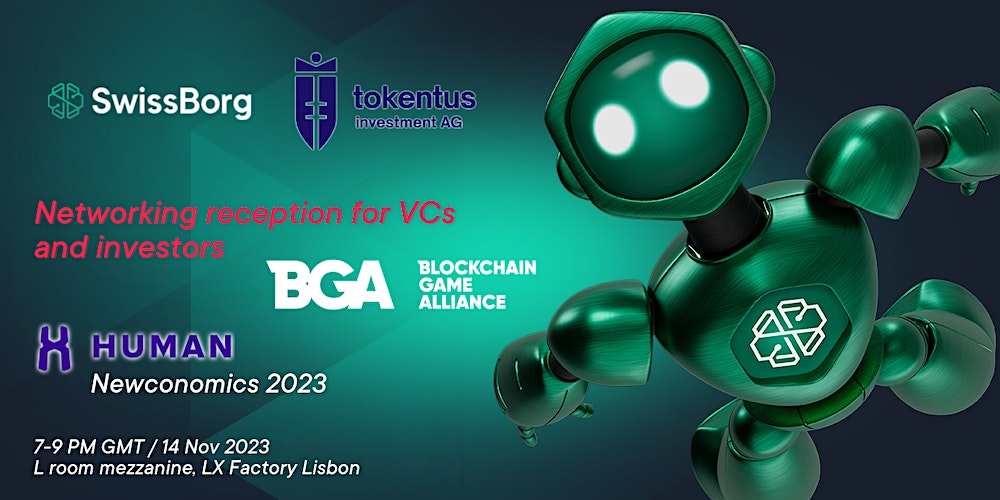 SwissBorg and Frens Lisbon Cross-Community Event
17:00 - 23:59
November 14, 2023 - November 14, 2023
LX Factory
SwissBorg & Frens - Blockchain Game Alliance, Tokentus and Galactica - cordially invite you to an enlightening event in Lisbon on Tuesday 14 November, 2023.
Explore the evolving world of crypto and decentralized finance with engaging keynotes, debates, networking opportunities and cross-community party.
The event kicks off at 5pm, in SwissBorg & Frens Breakout room (i.e. L room), with a firechat between Cyrus, co-founde and CEO at SwissBorg and Sebastien Borget, co-founder and COO at Sandbox and president at Blockchain Game Alliance, after their keynote and panel - on DeFi and GameFi - on the Main Stage at Newconomics conference.
Then we will delve into Gaming as a bridge to Web3 and address the pivotal role of individuals and communities in shaping the crypto landscape, featuring insightful keynotes and debates.
For networking, participants across communities can chill and mingle in the Breakout room, while SwissBorg and Tokentus will co-host at 7pm on the Mezzanine a "Networking Reception for VCs and Investors" (Invitation only, will be sent by Email and/or Telegram).
To conclude the day, all the communities get together for a legendary party! [more details to come]
Join us to gain valuable insights and connect with industry leaders at the SwissBorg & Frens cross-community event in Lisbon.
It will be a day of inspiration and collaboration in the world of crypto, DeFi and GameFi.
**************************************
General admission ticket includes:
-> Full access to Newconomics conference (incl. Main Stage) by Human Protocol https://www.newconomics2023.com/agenda on 14 and 15 November
-> Keynotes, Debates and Firechats in SwissBorg & Frens in Breakout room, 5pm-7pm
-> Community Networking in Breakout room, 7pm-9pm
-> Cross-Community Party in Breakout room Mezzanine, from 9pm onwards
-> 1 SwissBorg x BGA swag bag
Please note that general admission ticket does not include neither access to VC networking event on the Mezzanine from 7pm to 9pm, nor Newconomics swag bag.