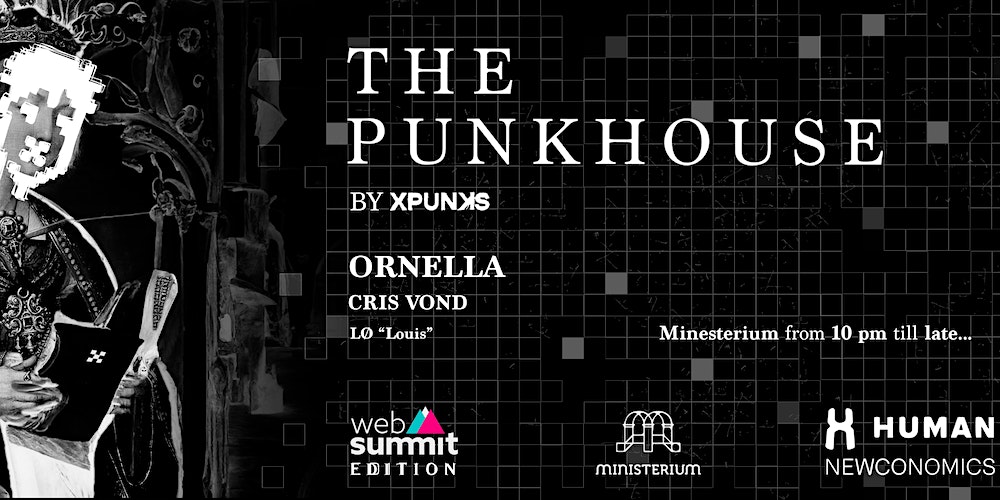 The Punkhouse by XPUNK NFTs
22:00 - 05:00
November 14, 2023 - November 15, 2023
Ministerium Club
Join us for the second edition of Punkhouse, hosted by xpunk NFTs, set against the backdrop of Web Summit and Newconomics2023. After a successful first edition, we are back to offer another memorable night filled with techno music at Club Ministerium in Lisbon.
Date: 14th November
Time: 10:00 PM - 5:00 AM
Venue: Club Ministerium, Lisbon
Lineup:
ORNELLA: Experience the deep and rhythmic beats of techno with ORNELLA, who will craft a musical journey throughout the night.
Cris Vond: Cris Vond returns to deliver another set of carefully curated techno tracks, ensuring a cohesive and engaging auditory experience.
Lo (Louis): Lo will be sharing his interpretation of techno, blending various elements to create a unique auditory landscape.
Event Context:
This event is aligned with the Web Summit and Newconomics2023, providing a space where the appreciation for technology and techno music intersect.