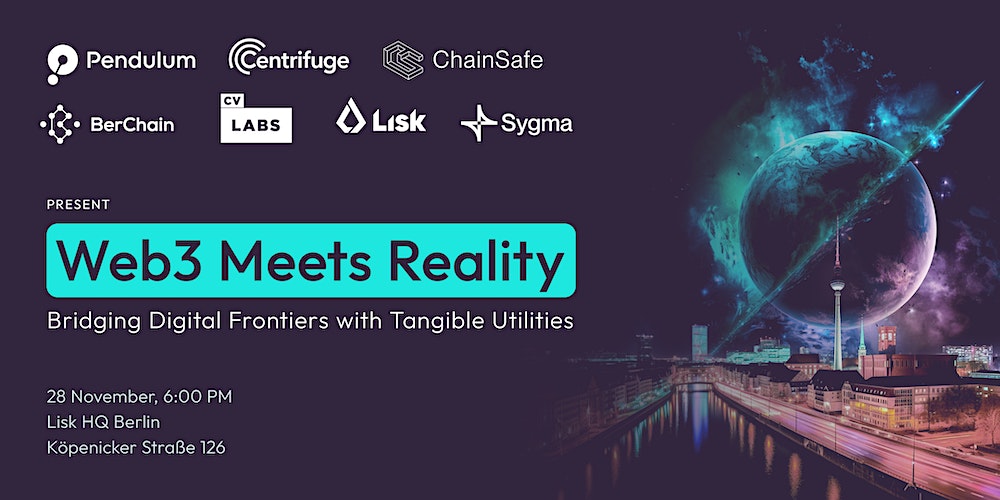 Web3 Meets Reality: Bridging Digital Frontiers with Tangible Utilities
17:00 - 21:00
November 28, 2023 - November 28, 2023
Lisk Center Berlin
About This Event:
Description
In collaboration with Pendulum, Centrifuge, ChainSafe, Sygma, BerChain, CV Labs, and Lisk, we'll step into the future with "Web3 Meets Reality: Bridging Digital Frontiers with Tangible Utilities". This exclusive gathering in Berlin will spotlight the convergence of Web3 technologies with real-world use cases, assembling some of the brightest minds in the Polkadot ecosystem.
Unlocking the Potential of Web3 in the Real World
Discover how Polkadot projects are shaping the future of decentralized technologies and their tangible impacts.
Benefit from insights shared by industry-leading speakers by Pendulum, Centrifuge, Sygma, and CV Labs.
Network with blockchain enthusiasts, developers, investors, and innovators over complimentary snacks & drinks.
Speakers
Panel: "Web3 in the Wild: Connecting Blockchain Innovations with Everyday Utilities" moderated by BerChain
Alexander Wilke, Co-Founder at Pendulum
Ulrike Lierow-Schad, Managing Director Berlin at CV Labs
Anna Mehrlaender, Product Manager at Centrifuge
Alexander Müeller, VP of Product at Sygma
Date and Time:
Wednesday, 28th November, from 18:00 to 22:00.
Location:
Lisk HQ: Köpenicker Str. 126, 10179 Berlin
Join the Communities:
Pendulum l Centrifuge | ChainSafe | Sygma l BerChain | CV Labs | Lisk
(Sponsored by Sygma)