A month before starting Crypto Jobs List, I was applying to all blockchain developer jobs I could find. Every morning I'd pick a few positions that I was interested in and start crafting cover letters for each job individually. No copy-paste, like most people do. I cared to write original, thought-through answers, share my excitement about cryptocurrencies and blockchain technology, research each company, understand the role and finally, hit that "submit" button only past the dinner time. Exhausted, I'd go to bed and repeat this same process again next morning.
I had to do one more thing — wait 😰 Waiting is the most painful part of applying to jobs. What's specifically painful about it, is not hearing back. At all. Often companies would not even email you a confirmation that they received your application. Less than 5% of companies do ever notify you that you are rejected. The rest don't. That's over 95% of them. They don't tell you they received your letter. Don't tell you whether they even looked at it. "Did they open it?" — i'd think — "I don't know!" No one knows. And then, if after a 2 week no one replies, I, like most people, would slip into doubting thoughts: 🤔 "Did they even open my application? Am I that bad? Maybe I should give it more time… What am I doing with my life?"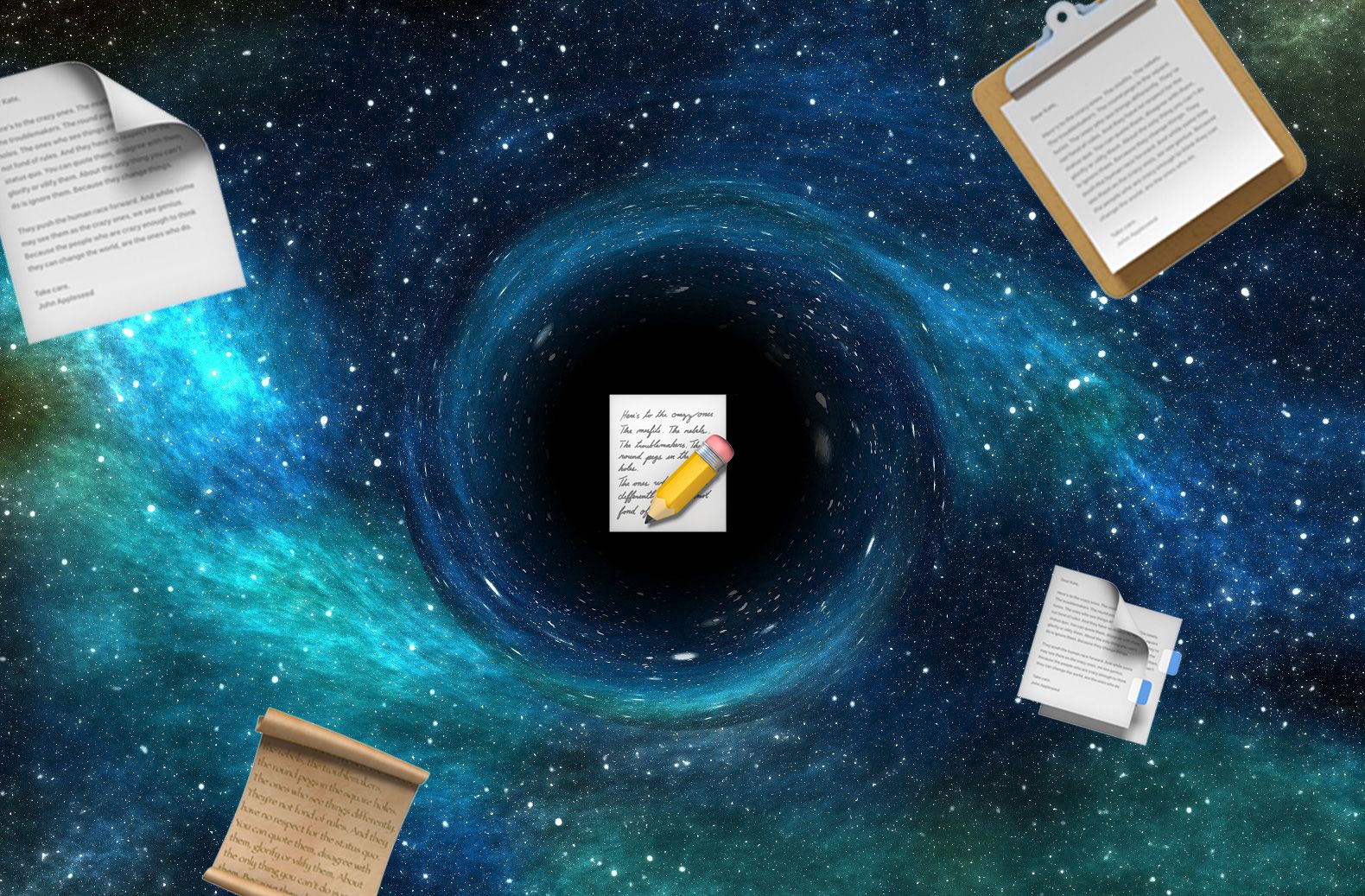 It's called "Resume Black Hole". Resumes go in. Nothing comes out…
The pain of being left in the dark was so excruciating, that while launching Crypto Jobs List, I've decided that sooner or later I'll solve this problem for everyone. Well, at least for everyone who applies to jobs on Crypto Jobs List. So finally after 9 months in to Crypto Jobs List (how ironic) I've launched a simple notification email, that says in the most perrrsonal manner possible, that someone at the company is viewing your application. They look like this: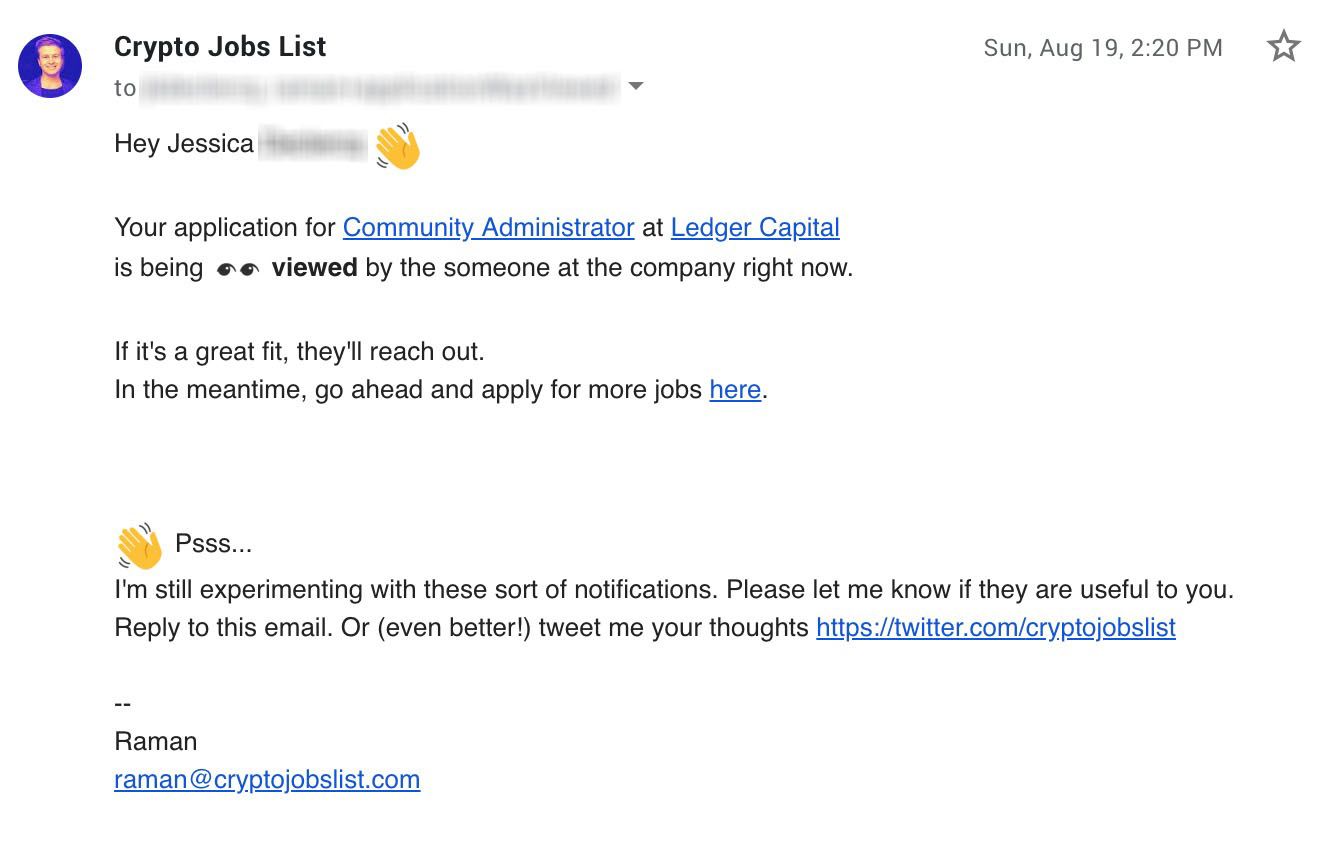 When I was launching it, I was not hoping for much and certainly was not expecting people to reply. After all, on the Internet over 80% of people ignore you and don't bother reacting even to things they seem to care…
… but people started replying! Take a look at this 💬 response from Mayan: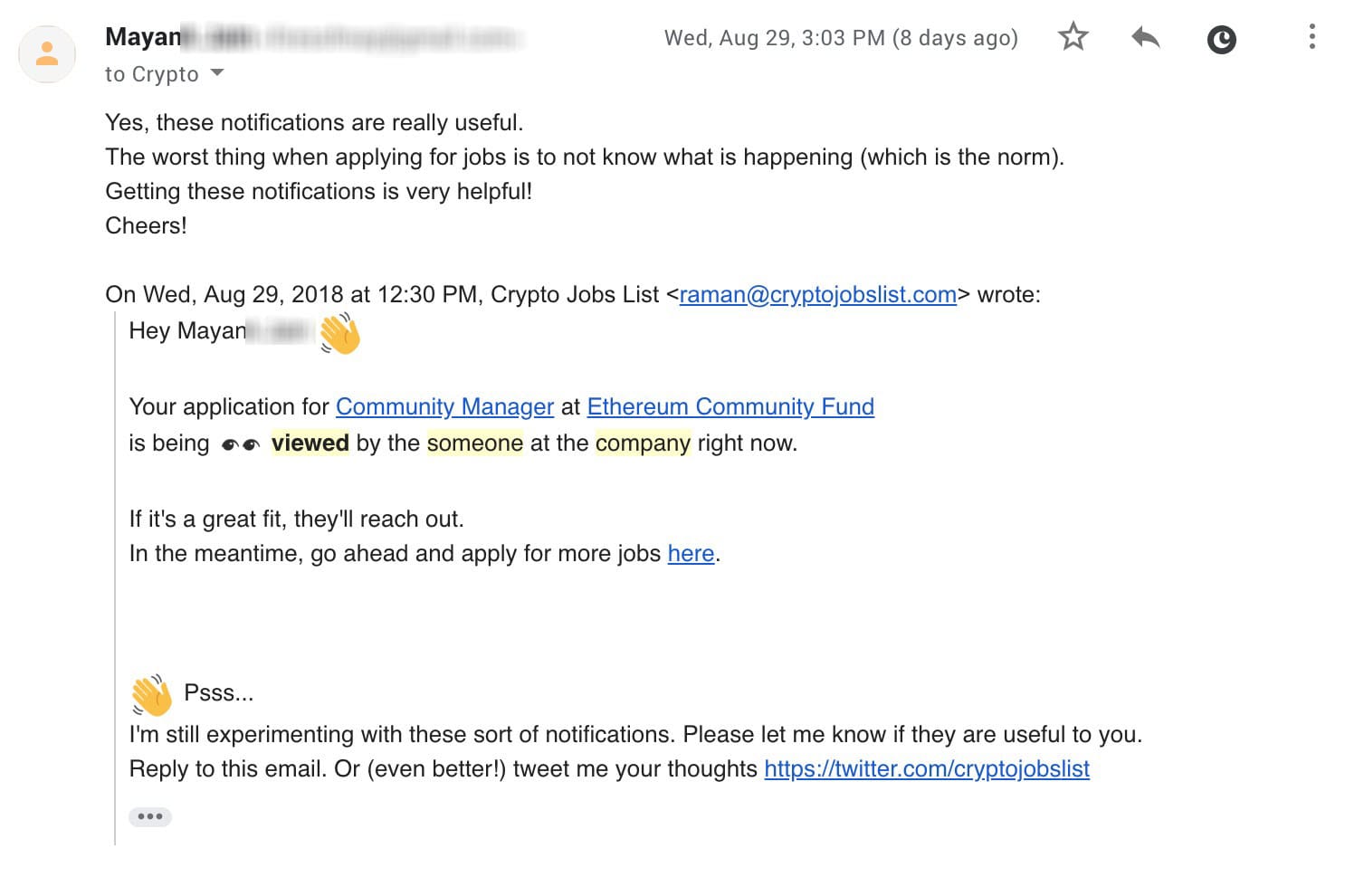 Looks like the notification is useful to 1 person 😅
But wait! Here is more: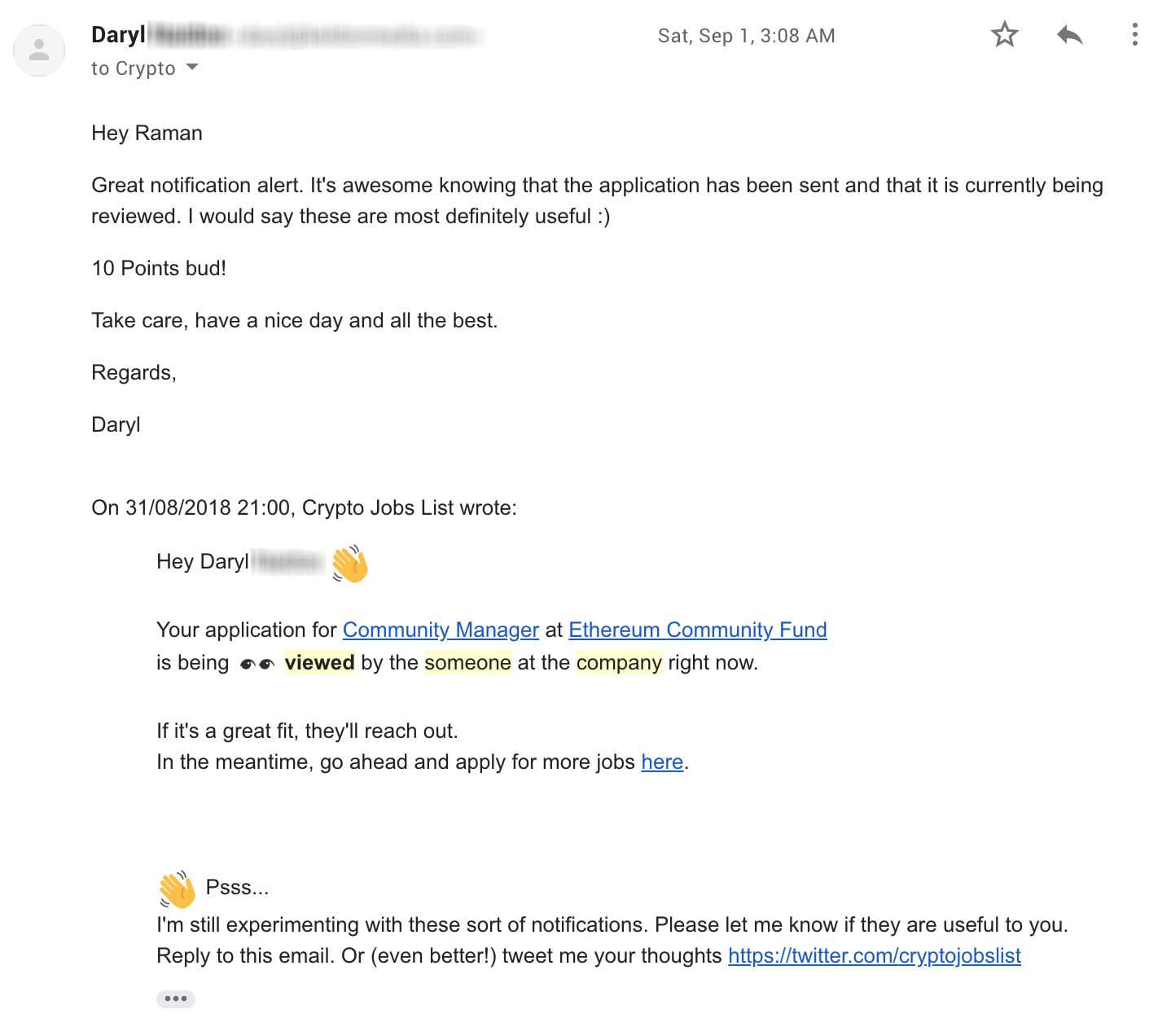 Aaaand more: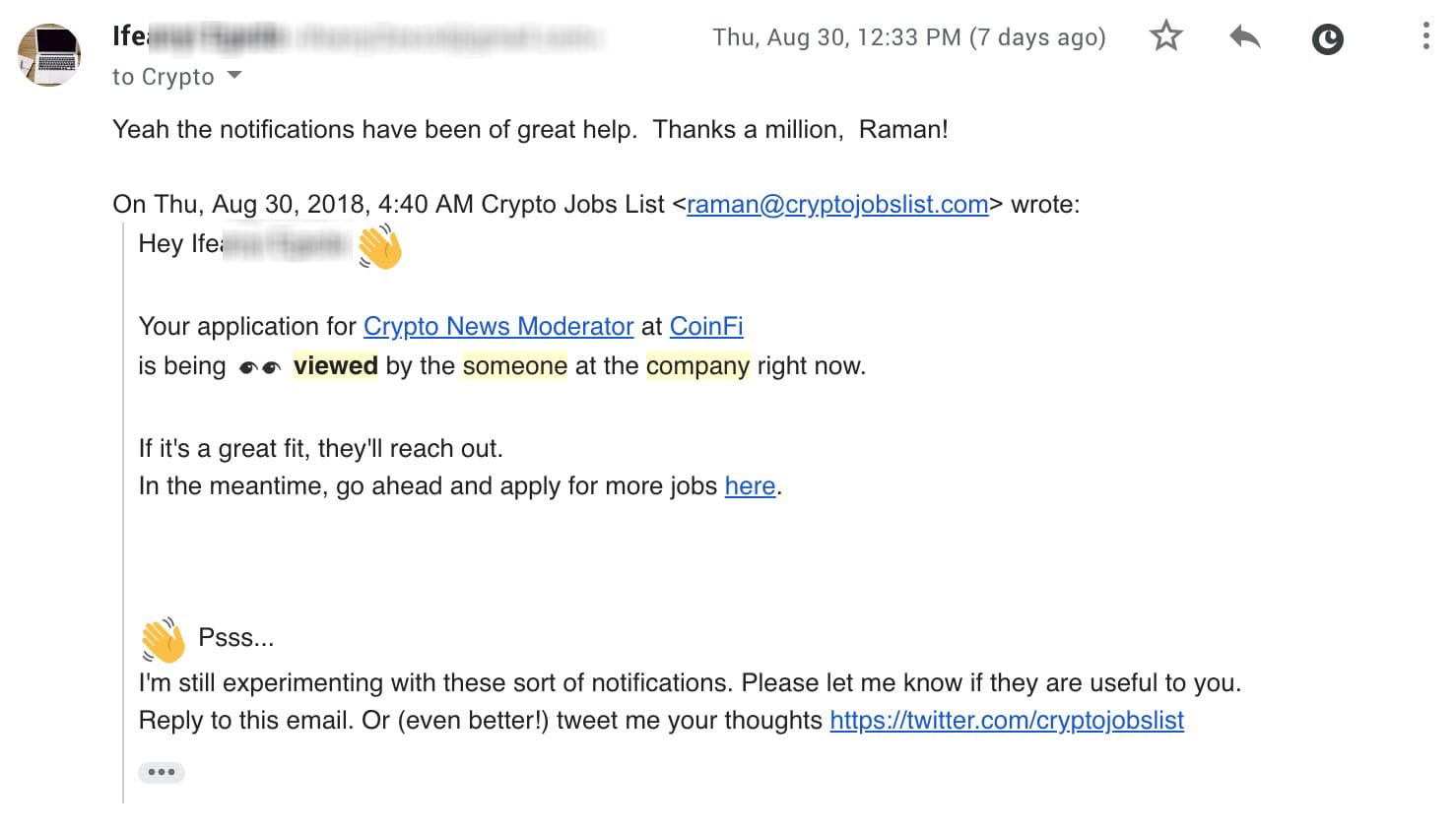 ---
Conclusion
Sometimes, small things make all the difference. I wish such updates were the norm on all job boards.
But I'm happy that now applying to jobs on Crypto Jobs List is less painful than on other sites.
I hope I'll be able to solve more problems around job search and hiring process. And I'd like to continue relying on YOU, for feedback and inspirational stories, that keep me going.
Raman